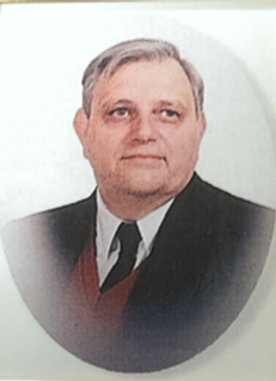 "If I could help somebody…"
"More than lyrics in an old song to Robert Burdette; these words were his life's motto. Passionate about loving and helping those that were hurting, Bob left an imprint on the Charleston community that is still felt more than 15 years after his death.
Bob Burdette was a memorable figure, both in stature and heart. Standing 6'5" and weighing over 300 lbs., friends describe him as a "sweet, huggable, giant teddy bear." He came to Emmanuel Baptist in 1986 to play the organ, but soon began to blossom in other talents and gifts God had given him. He started the Christians in Action Sunday School class composed primarily of singles and divorced people of the community. Many of these people didn't quite "fit in", but Bob poured his life into them, creating a safe place for them to grow in their walk with the Lord and heal from hurts. With his fun-loving sense of humor (imagine a 6'5" man dressed as a baby, complete with diaper and bottle), he put people at ease. A gracious host and excellent cook, he often opened his home on holidays, inviting those with no place to go to join him and to bring a friend.
But it was Bob's compassion that perhaps had the greatest impact on those around him. Although he spoke little of his life before Emmanuel, his friends sensed it was painful and unsettled. Adopted as a child, he always seemed sensitive to those who were down and out. Surrounding Emmanuel was a community rife with broken and hurting families, and Bob carried a compassionate heart for its children.
Bob dreamed of a haven for these kids. He travelled to other cities where similar programs were in place and studied what worked. Describing his vision, Bob shared goals for the program with the church. A place to go after school for a snack, get help in homework, play in a safe environment–by meeting these physical needs, Bob knew Emmanuel could meet the spiritual and emotional needs of these hurting kids and their families, too.
During this time, Bob continued to grow as a teacher, and was asked to be associate pastor at Emmanuel. After wrestling with a call to ministry, Bob accepted, holding this position for 5 years before leaving in 1996 to become pastor at First Baptist Church in Sistersville. 

By this time, Bob's excitement and vision for the neighborhood had spread and the congregation continued with his plans. The learning center opened in the late 90's with less than 20 students and under a different name. When outside funding for the program dried up shortly after its inception, the church voted to keep the dream alive and funded it themselves. They renamed it the Bob Burdette Center after Bob, who sadly died from cancer several months after the program started. Today the Bob Burdette Center has three different campuses serving 120 students, with more students on a waiting list.
The Bob Burdette Center stands as proof of what God can do when a man loves Jesus and loves others. Bob's greatest desire was to help others, and through his life and example, he is still inspiring others to do the same."